July 4, 2005
ANGEL WINGS (AW) ANIMALS HAVE BEEN RESCUED !!!
First off, since there is no need for secrecy anymore, let me introduce myself. My name is Holly, and I run the Stray Connection in Knoxville, TN. The Underdogs4cats represents a consortium of many individuals who worked very hard to rescue animals from Angel Wings.
The process began about six months ago when the two former Board members, Sue and Kara, secretly went onsite (to the Cats' House specifically) and took pictures of the animals and conditions they were living in. They presented their findings to the Roane County DA, naively believing that AW would be shut down immediately. Well, as we have learned, legal machinations take time. I got involved about four months later when it became clear that the DA would bring charges against the founder. At that point, we realized that we needed a plan to handle all of the animals we hoped to rescue from AW. We began the process of trying to line up foster homes, vet support, funding, etc. Peaceful Kingdom generously agreed to front the bill for this effort. Several local vets agreed to donate their time to exam and treat animals coming from AW.
Beginning in early June, the founder did begin to voluntarily turn over some cats. She voluntarily turned over 40 cats, 25 kittens (most of which were born to unspayed females), and 15 adults. All of the cats have been examined, tested, vaccinated, etc. If old enough, they are being altered and put up for adoption. Of the cats, one was very nonresponsive due to dehydration and starvation. She has recovered and is doing well. One has lymphoma (probably not the founder's fault). One has non-regenerative anemia. We have sent a bone marrow sample out to test for Felv/FIV and are awaiting results. One was FIV positive.
In addition to the time and energy required to take care of the cats we were slowly getting from the founder, developing a formal plan for rescuing all of the tame the cats from AW was a massive effort. We estimated that there were an additional 40-50 cats on site. The problems of having enough crates to transport all the cats in one day and where to house that many cats took a long time to resolve. The DA requested a formal plan for rescuing the cats, which we submitted about 2 weeks ago.
The founder was charged with 37 counts of misdemeanor animal cruelty on Fri. June 24. The counts are misdemeanors, because it was her first offense. Because we had a formal plan in place for rescuing the cats, the animals were not seized and euthanized at that time. It took another three and a half painful days of legal dealings before getting access to the site. It was crucial that we get custody (ownership) of the animals so that a) we did not have to hold them as evidence for the founder's trial, which is not scheduled to start until Mar 29, 2006, and b) there was no possibility that these animals would have to be returned to AW. On Thursday, June 30, an order was written that allowed access to all four properties where animals might be located and legal ownership of all animals was transferred to Peaceful Kingdom. For legal ease, we had to pick one lead organization to which all animals were turned over. The Stray Connection has assumed responsibility for all the cats. Peaceful Kingdom and Great Dog Rescue are taking care of the dogs, and Horse Haven took all of the livestock (goats, sheep, and horses). We mobilized at the Roane County DA's office around 3 pm. We were accompanied by RC Animal Control Officers and Sheriffs.
There are three main properties. The Cats' House has a house and four acres cat fenced in. Adjacent to the Cats' house is the founder's house. She bought this property about a year ago, left her husband and moved into this house. Her husband's house is about 13 miles from the first two properties. This is where the founder and her husband lived until she left about a year ago. Her husband's house has six acres cat fenced in. The first stop was her husband's house. We suspected that the cats had been moved from the Cats House to her husband's house. We were correct. Cats galore. Her husband's house was worse than I could have ever imagined. The front of the house has a two-story porch which was covered by large canvass tarps to keep the sun out. Feces and urine covered the floors. Most of the cats were hanging around the yard or porch. They were quite friendly and easy to catch. After crating as many as we could easily catch that were outside, we went into the house. Urine and feces covered the floors inside. The house was utterly filthy. I started moving the furniture to look for scared cats and discovered corpses. There were nine decomposed bodies inside the house and two fairly recently deceased cats in the front yard. There were a total of 14 dead animals (corpses) found at the three sites. As a result, the founder will be charged with an additional 14 counts of felony animal cruelty.
After going through the house, I took the first 35 cats back to the unfinished basement of my house back in Knoxville for vetting. Kara and other volunteers remained in Kingston to visit the remaining two properties. Two wonderful vets, who donated their time and about 15 volunteers worked for 4 hours until all 35 cats had been examined, tested, vaccinated, treated for fleas, worms, and ear mites. Kara arrived at my house at 11:30 pm with an additional 23 cats.
With the foster homes we had lined up, about 20 of the cats who had been vetted were placed quickly into foster homes. The remaining cats were caged in my garage. Most volunteers, after being up till 1 pm Thurs, went to work Fri. The remaining 23 cats were vetted Sat afternoon by another wonderful vet and eight volunteers who donated their time. Most of the cats rescued from the three sites were dehydrated, anemic, covered in fleas, had ear mites, and were painfully thin.
A total of 59 cats were taken from AW properties June 30. The vast majority came from her husband's house. Only five were found at the Cats' House and 1 at the founder's house. Including the cats turned over by the founder before the seizure, the total number of cats and kittens taken from Angel Wings is 99. Of the 58 cats taken from the premises June 30, 13 are positive for aids (FIV) and eight are positive for leukemia (Felv). Thus, 40% of the cats taken from Angel Wings were positive for aids or leukemia. The positive cats were not kept separate from non-positive cats as she told everyone. So far, three of the 59 cats seized were euthanized because they were in such bad shape. We do believe that we rescued all of the cats from all AW properties that were tame. So far we have not euthanized any cats just because they have aids or leukemia. We want to wait a little while to see if individuals or other cat rescue groups will take any of these cats.
On a personal note, feel free to contact us but please be patient. We have barely had time to breathe since Thurs. We still have lots of work to get the remaining cats out of cages and into foster homes. Then we will have to have the unaltered cats fixed and begin the long process of finding these animals permanent homes. It has been a massive effort to date, and we have a long way to go. Rest assured, we are committed to the very end, but we are already tired. Kara has been relentless over the past 6 months and deserves much of the credit.
Carmen with Peaceful Kingdom is working very hard to get all of the pictures of cats and dogs catalogued and onto the web. Please be patient. Pictures will be available soon.
If there is one lesson that I would like the public to learn from this experience is that there is a fate worse than euthanasia. Several times a week, The Stray Connection receives calls from individuals who have found stray cats but don't want them and "can't bear to take them to the shelter to be euthanized." An animal left to fend for itself can end up like those rescued from AW. It is not a pretty sight and it is not a good life by any means.
Sincerely,
Holly
The Stray Connection
---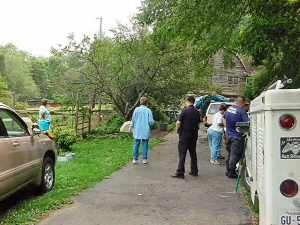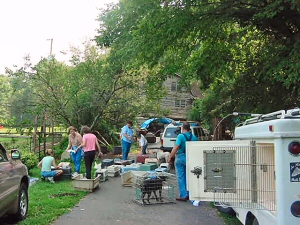 FOR IMMEDIATE RELEASE – July 8, 2007
140 ANIMALS SEIZED FROM ANGEL WINGS CAT RESCUE
Kingston, TN –
On June 30th acting on a court order, a consortium of animal welfare organizations and Roane County Animal Control officers descended on four locations in Roane County owned by [the founders] who operated Angel Wings Cat Rescue and Sanctuary.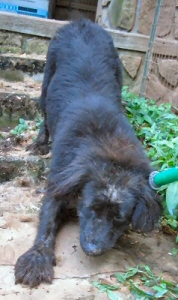 The rescue efforts, initiated by the filing of a Chancery Court lawsuit, began immediately after the June 21st indictment of the founder and president of Angel Wings Cat Rescue and Sanctuary, on thirty-seven counts of animal cruelty. The State filed the lawsuit to rescue the animals and shut down the Roane County facility.
Angel Wings Cat Rescue and Sanctuary was incorporated to protect cats through preventing animal cruelty, promoting adoption of homeless cats and spay and neutering of all animals. According to former board members, Angel Wings through its website solicited donations and animals in need of a home from multiple states in the eastern United States. The corporation was administratively dissolved by the Secretary of State on June 14, 2005 for failing to file annual reports.
The lawsuit filed on behalf of the State by District Attorney General Scott McCluen alleged that the animals in the custody of Angel Wings and [the founders] were suffering from the lack of necessary food, water, shelter and appropriate veterinary care and were in immediate risk of dying due to these conditions.
The judge in the case, Chancellor Frank V. Williams III, granted a request by the State for a temporary restraining order prohibiting Angel Wings and [the founders] from having in their possession any animals other than certain personal pets mentioned in the State's complaint and prohibiting the Defendants from soliciting funds on behalf of Angel Wings Cat Rescue and Sanctuary.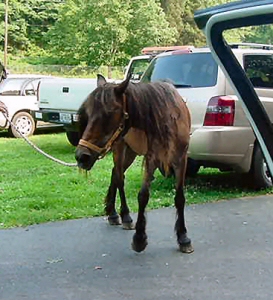 The temporary restraining order required the defendants to relinquish ownership, custody and control of any other animals in their possession to Peaceful Kingdom, a Knox County nonprofit animal welfare organization.
Peaceful Kingdom along with The Stray Connection, AnimalWorks, Grreat Dog Rescue, Horse Haven of Tennessee, former Angel Wings board members and Roane County Animal Control Officers began the rescue operation on June 30th and operated into the next morning. According to rescue officials they observed 168 animals, rescued 140 animals, found 19 dead and left 9 as the Harvey's personal pets.
According to rescue officials the breakdown of animals found at the four sites is as follows:
Cats: 80 observed in a mixed population, 59 seized, 19 found dead, 2 left as pets. All 59 seized cats are in the care of the Stray Connection. 13 are positive for FIV and 8 are positive for leukemia.
Dogs: 73 observed, 66 seized, 7 left as pets. Thirty five went to rescue groups, 24 were transferred to Roane County Animal Control. Five were reclaimed by previous owners. One Beagle remains on the scene and likely will go into the care of animal rescue. One died while rescuers were on the scene.
Livestock: 10 observed and seized 3 horses, 1 donkey, 2 sheep, and 4 goats. The livestock are in the care of Horse Haven of Tennessee.
Exotics: 5 observed and seized; one a chinchilla had to be euthanized to ease suffering. The remainder of the animals is in the care of private individuals.
According to rescue officials each animal received a complete veterinary examination in Knoxville after the seizure. The UT Veterinary Hospital performed post mortem examinations on at least four of the animals.
According to Carmen Trammell, Founder and President of Peaceful Kingdom said, "The most important thing now, since the rescue is nearly complete, is to restore the health of the rescued animals and to find them a good home. Most of the animals are responding to clean food, water and shelter along with appropriate veterinary care."
"Anyone who wishes to contribute to the bed, board and veterinary care for the rescued animals may send donations to the Angel Wings Animal Care Fund c/o Peaceful Kingdom, P.O. Box 16230, Knoxville, TN 37996. Peaceful Kingdom is a nonprofit 501 (c) (3) corporation."
"Anyone who wishes to adopt a rescued animal or reclaim one which was given to Angel Wings Cat Rescue and Sanctuary may do so by contacting Peaceful Kingdom."
District Attorney General Scott McCluen said, "Without the support of these animal welfare organizations, the Roane County Animal Control Officers and Shelter and former Angel Wings board members this rescue could not have taken place. I am grateful for their support." McCluen said the next hearing in the State lawsuit is scheduled for October 6th and additional criminal charges are under review for presentation to the October 17, 2005 Roane County Grand Jury. [The founders] are presumed innocent until proven guilty in a court of law.
McCluen said, the District Attorney General's Office is adopting a zero tolerance policy for animal abuse and neglect. The Attorney General is asking the District's Animal Control Agencies and Officers to adopt the Vermont Animal Cruelty Taskforce Manual as their investigative protocol.
Persons with information concerning animal abuse and neglect should contact their local animal control agency. In Roane County contact the Roane County Animal Shelter. In Loudon County contact the Loudon County Animal Shelter. Miegs and Morgan County do not have animal shelters. Otherwise, contact the District Attorney General's confidential crime hotline.
For video:
Contact Kara Disbrow of the Stray Connection. Ms. Disbrow can make arrangements for visits to boarding locations and foster homes in which the cats are located.
Contact Carmen Trammell of Peaceful Kingdom. Ms. Trammell can make arrangements for visits to boarding locations and foster homes in which the dogs or livestock are located.
---
Peaceful Kingdom
Great Dog Rescue
Horse Haven
FIV: Catching a Bad Case of Rumors